TECHNIQUE
All the works in the series are made with digital technique.
In this technique, the lines made with the digital pen on the graphic tablet are introduced on the screen, appearing on it as graphite and other materials do on paper or canvas. The images are printed on high quality paper and with highly durable inks.
These works have the same treatment as traditional engraving: limited series, numbered and signed by hand.
EXCLUSIVITY AND AUTHENTICITY
Printed digital art, as I like to offer it to the public, has the same consideration as engraving, since the printed images are not copies of a previous original, but rather the materialization of the work itself. As an artist, I like to make editions of few copies in order to offer the collector something that is of value to both the collector and the artist: originality and exclusivity.
WORKING PROCESS
My favorite method of work is through the development of series: from some aesthetic premises, I create different pieces on the same theme. Variation and repetition allow me to delve into the emotions I aim to express, as well as explore and perfect the way in which I depict them.
---
Noir Views
Lonely and quite spaces where architecture and vegetation built a subtly thrilling atmosphere are the context for delicate scenes that moves in the boundaries of happiness and melancholy. In this series of cityscapes and landscapes the protagonist visual elements are color and richness of textures, a combination of passionate brushstrokes and dynamic lines that talk about the feelings of the characters. Noir cinema is the emotional inspiration of the series "Noir Views" which is, paradoxically, full of color.
In Secret
Size 93 x 63 cm
Why Do You Ask?
Size 93 x 63 cm
They're Out!
Size 93 x 63 cm
---
Tropical Gardens
Imaginary places where the passionate vegetation and landscapes are a metaphoric depiction of the emotions and feelings of the silence characters in these pictures. Through this calm but mysterious spaces, I depict characters in relax attitude but, at the same time, in an inner search.
Available works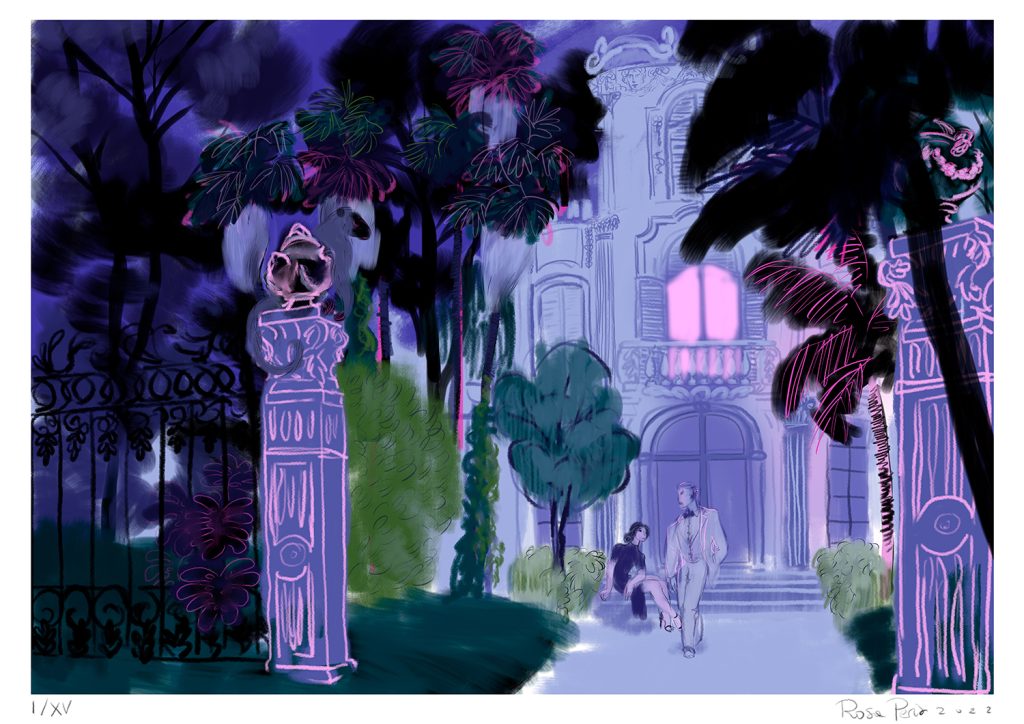 They Are Cut from the Same Cloth
Size 65 x 92 cm
The South Pavilion (The sigh)
Size 66 x 46 cm
The Night Owl Woman
Size 37 x 27 cm
The Siesta
Size 37 x 27 cm
---
Inner Jungle
«Inner Jungle» is a series of pictures where women are shown in suggestive and invented contexts, surrounded of vegetation and fine objects, in relax and dreaming attitude, apparently calm but full of emotions and expectations. These are intimate views of beauty which invite the spectator to the pursuit of purity.
The Blue Divan
Dimensions 46 x 66 cm
The Adam's Rib
Dimensions
66 x 46 cm
The Blue Vase
Dimensiones
66 x 46 cm
Exhibition and Sale
Digital engraving
Limeted series
Copies signed by the artist